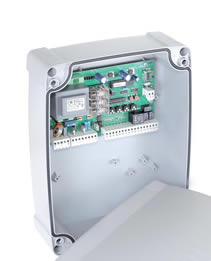 LOGIC TAU D760M AUTOMATIC SWING GATE CONTROLLER
PROGRAMMABLE 240 VOLT LOGIC CONTROLLER FOR SINGLE OR DOUBLE SWING GATES
The D760M is a typical TAU product - no fuss but with all of the features you need at a price you can afford.
Complete in outdoor weather enclosure it has built in 433mhz wirelss receiver suitable for use with TAU remote controls.
PRICING
This product has free delivery when ordered online.
LOGICTAUD760M -
Logic control for one or two motors
$413.00
REMTAUSLIM -
2 channel 433mhz key ring style remote control.
$57.00
TAUKEYPAD -
TAU wireless outdoor keypad
$238.00
SPECIFICATION
Motor Voltage -
240 volts AC - Single or double
Current Standby -
30mA
Photocell In Close -
Yes
Photocell In Open -
Yes
Photostop Input -
Stop Input -
Yes
Limit Switch Inputs -
No
Encoder Inputs -
No
Open Stop Close Input -
Yes
Separate Close Input -
No
Automatic Close -
Yes
Security Close -
No
Pedestrian Input -
Yes
Buzzer Output -
No
Flashing Light Output -
Yes
Courtesy Light Output -
No
Pedestrian Via Receiver -
Yes
Electronic Force Adjust -
Yes
Slow Speed In Approach -
Yes
Slow Speed Adjustable -
No
Dual Wing Delay -
Yes
Wing Delay Adjustable -
No
Electric Lock Output -
Yes
Lock Thrust Release -
No
Thrust To Lock -
No
DOWNLOAD & MANUALS
LOGIC CONTROL MANUAL -
OPTIONS
PHOTOCELLS - A must have if you use automatic closing function is photocells. Photocells provide an extra level of safety to prevent gates from closing on vehicles or pedestrians. Sliding gates can have a single set between the gate posts or multiple sets if desired at various heights. More information and a full list of product
here
.
ELECTRIC GATE LOCK - There is varied debate about when an automatic gate should have the extra security of an electric gate lock. The lock increases security and also protects your gate operating system. It operates automatically when you choose to open your gate. Check them out
here
.